Women's Network Conference 2017
Tomorrow's World, Tomorrow's People
Tomorrow's world is fast approaching; bringing with it opportunities, challenges and new perspectives for us all. How are you preparing yourself for the future workplace? How do you think AI will impact your work environment? What might the future hold and how can you adapt?
These questions are only the start of what will be explored as the BAB Women's Network brings you an all-star line-up of leading female and male executives who are at the forefront of shaping the ways in which the worlds of work, technology, data and people interconnect.  Get a head start in navigating the ever-changing business environment and join us on the 1st of November for our 2017 Women's Conference. Hear insight, practical tips and real life examples of how you can be better informed and best prepared to leverage opportunities and challenges that arise in your future.
Conference Programme
8:30 am Registration and refreshments
9.00 am Seated for Welcome & Introductory Remarks
Stephen Barter, Co-Chair of the Global Advisory Board, Chicago Booth, and Chairman Real Estate Advisory, KPMG
Wendy Mendenhall, Global Executive In Charge, BritishAmerican Business
9.12 am Introduction from Conference Moderator
Iain Anderson. Executive Chairman, Cicero
9.15 am Keynote remarks from Futurologist
Jacques Bughin, Director, McKinsey Global Institute and Senior Partner, McKinsey & Company
9.35 am Keynote Remarks: Baroness Ruby McGregor Smith CBE followed by Q&A
10.00 am AI – Friend or Foe
Amanda Borthwick, Executive Account Partner, IBM
10.30 am How digital technology is transforming the customer experience
Linda Jojo, EVP, Technology and Chief Digital Officer, United
11.00 am Break for refreshments, networking and interactive technology
IBM Technology
United Polaris VR stand
11.45 am Panel discussion: Preparing the Workforce for Tomorrow
Emma Codd, Managing Partner, Talent, Deloitte
Mary Bright, Senior Manager, UK CEO Office, Aviva
Julie Morton, Associate Dean, Career Services and Corporate Relations, Chicago Booth
Steve Lewis, Head of Global Accounts, Search &Staffing, LinkedIn EMEA
12.45 pm Closing remarks
Yvonne Smyth, Chair of BAB Women's Network, Hays
Date

Wednesday 1 November 2017

Time

8:30am to 2:00pm including a networking lunch

Location

University of Chicago Booth School of Business
Woolgate Exchange
25 Basinghall St.
London EC2V 5HA

Tickets

Complimentary – In the spirit of collaboration and inclusion we ask
each member to invite a male colleague and a client to join us at this event.
Closest Tube Station: Moorgate, Bank and Mansion House
Register Now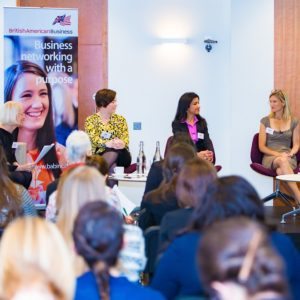 Women in business
Rising C-suite
Diversity & Inclusion professionals