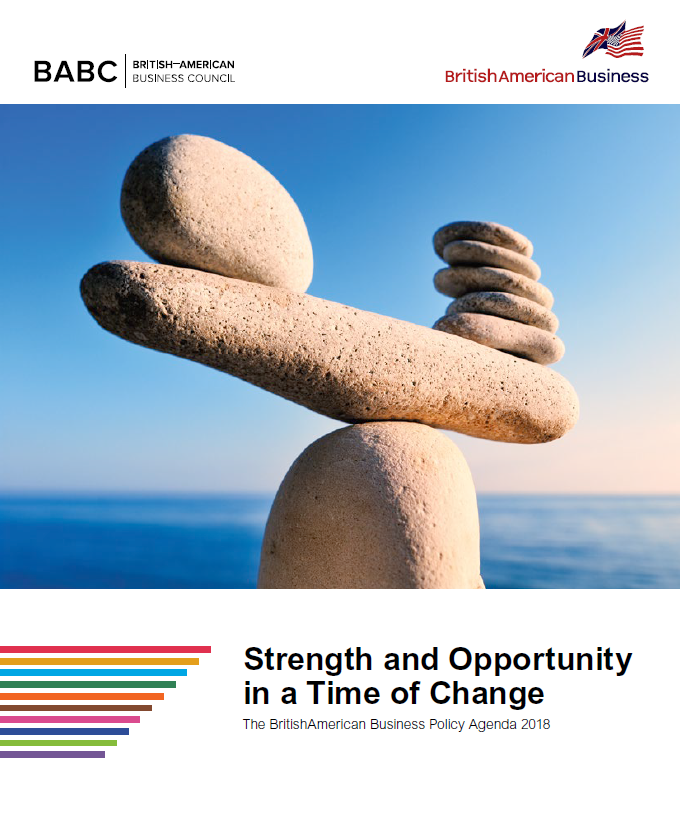 Dear Members, Media and Guests,
I am pleased to present BritishAmerican Business' Policy Agenda, 'Strength and Opportunity in a Time of Change'.
In this document, we have identified 10 topics of great importance to the environment for trade and investment between the USA and the UK following ongoing consultation with our members and with our policy committee.
At BAB, we cannot focus on the level of detail that vertical industry trade associations can bring to their own industry challenges but instead we can highlight those broad horizontal issues that have the power to affect the extraordinarily successful UK/USA commercial relationship, either positively or negatively, in the years ahead.  Inevitably that means we will be talking about the UK's future trade relationship with the EU and about the potential for a UK-USA free trade agreement but we also cover questions around labour mobility, infrastructure investment, policy on data and cyber security, tax and more.
This agenda will form the basis for the member programming that we produce in New York and London during 2018 as well as the backdrop to our dialog with relevant government departments in both countries.
Many thanks to our sponsors, Caterpillar, Arup, EY, Magrath Sheldrick, Zebra, and Wells Fargo, for their generous support of our efforts to produce and distribute the Policy Agenda to all of our members.
We are always interested to have feedback from our members on our work so if you do have comments or if your organization would like to get more deeply involved in our policy work, please feel free to contact me or Emanuel Adam, Director of Policy, who has overseen the production of this agenda.
Warmly,
Duncan Edwards
Chief Executive Officer